Task History 👀
Task history gives a detailed report of changes taking place in a task w.r.t team members, task status, date changes and custom notes. This report can be access from Main Navigation of Jamku.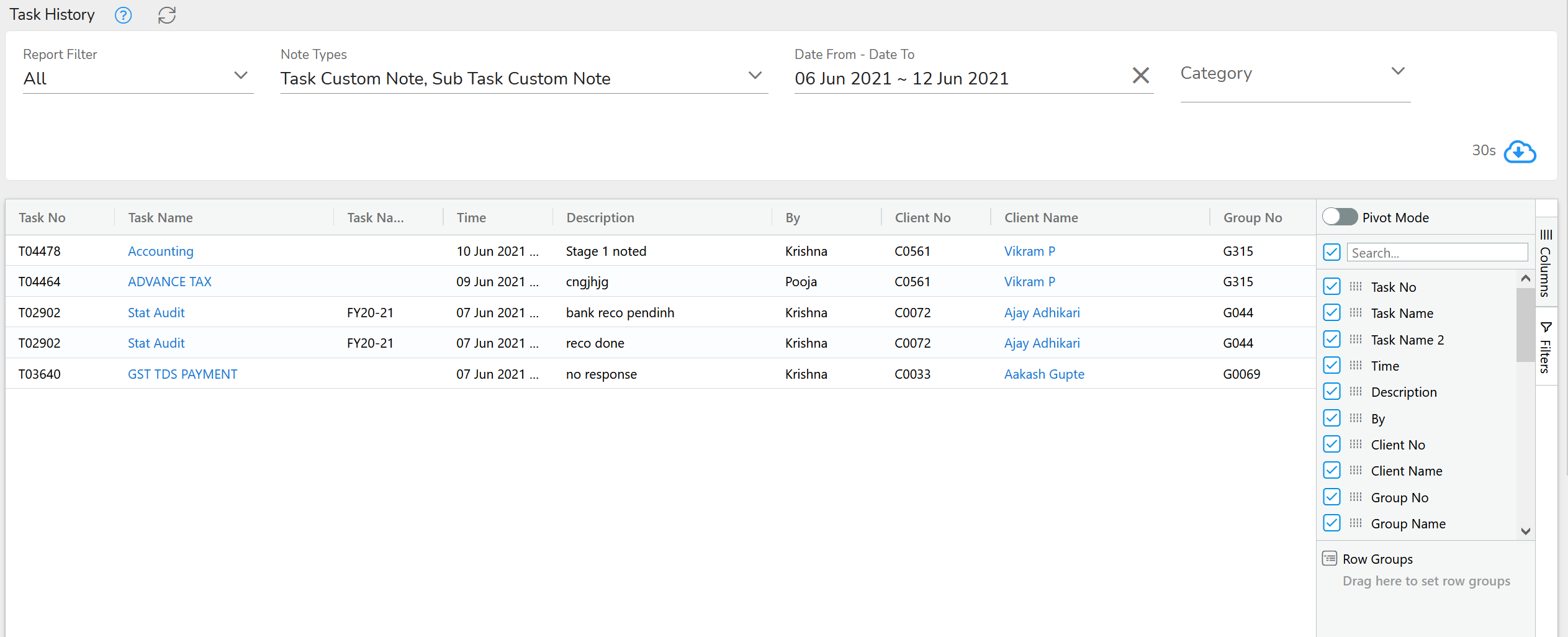 The default view of Task History.
The report has 2 sections 1st - Filtering Options 2nd - Actual Table containing the details
Task Notes Filtering
There are many filtering capabilties in Task history page You can enter any of the below things to filter.
Report Filter.
Type of note (By default Task and Sub Task Custom Notes are selected).
Filter Task based on note creation date.
Task, Client and Group multi select category/profit center and cost center filter.
Task History - Table Mode
Table mode gives shows you data in tabular format. See below for the full list of
Task history Analysis - All Fields List
Task No - Task Number to which workdone is added
Task Name
Task Name 2
Time - The Date and time of when the changed took place.
Description - Description of note
By - Name of the team member by whom the changes were done
Client No - Client Number of the client to which the task belongs to
Client Name
Group No - Group Number of the client to which the task belongs to
Group Name
Year - Task Year
Period - Task Period (Eg - Jan, Feb, Q1, Q2, H1, H2)
Task Status - Current "Status" of Task
Task Create Date
Task Due Date
Task Target Date
Task Completed Date
Task Verified - (1 -> Yes and 0 -> No)
Task Category
Task ProfitCenter
Task CostCenter
Client Category
Client ProfitCenter
Client CostCenter
Group Category
Group ProfitCenter
Group CostCenter