Jamku Support 🖐️
This section covers how to get support for Jamku. In order to get most out of Jamku, we recommend reaching out to Support team as and when required.
As of May 2021, we are currently handling 9800+ monthly active users. Hence, in order to provide best in class support, depending upon the need, please follow the below priority sequence.
💨 Scheduling - Data Import, Training, Doubt Solving Session
WhatsApp to Priya
💨 General Help on how to use Jamku
💨 Billing / Licencing
Call in case of urgency
💨 Error / Bug in Software
💨 Suggestions on improving Jamku
Chat
This is the fastest way to get a reply from Support Team. Chatting is typically available from 10AM to 6PM. In a scenario where support agent is not available, you will receive a call back. If you don't receive a call-back within 4 hours, please escalate via a WhatsApp message.
Login to Jamku and click on your name

This will open a new tab in browser, and navigate to support.jamku.app

On this page, click on chat button, as shown with an arrow in the screenshot.

This is how it appears on Desktop

This is how it appears on Mobile

Clicking on the chat will open chat window.
Select the chat reason and click on Start Chat button.

This is how it appears on Desktop

This is how it appears on Mobile
Question
If you are looking for a common question, this is the fastest way to get your query resolved. All the general/common questions which support team gets are already answered hereopen in new window. We use GitHub Discussion for maintaining FAQs.
In case you are not happy with the answer provided by Jamku support team, post your question hereopen in new window, and senior support team member will answer it.
Links
Email
Simply send us an email to jamku.support@madrecha.com
In case of escalation
1st Level - Shweccha shweccha@madrecha.com
2nd Level - Priya priya@madrecha.com
3rd Level - Adarsh adarsh@madrecha.com & Ashok ashok@madrecha.com
WhatsApp
Click on mobile number to start whatsapp chat.
Call
Click on "Call 📞" to copy the number to dialler screen.
GitHub
All the suggestions and feature requests are tracked in a transparent manner on GitHub.
Link: github.com/madrecha/jamkuopen in new window
Here, you can--
Comment on open feature request for how it can be made better
Cast your vote on feature request to get it implemented faster
Create a new feature request
Share your suggestions on how we can improve Jamku
Salient feature
When you comment on any issue, it automatically subscribes you to that feature.
Now when we release the feature and close the request, you will be notified via email.
This is how the GitHub list looks. Here you can see the feature/ bug fix was implemented in which version.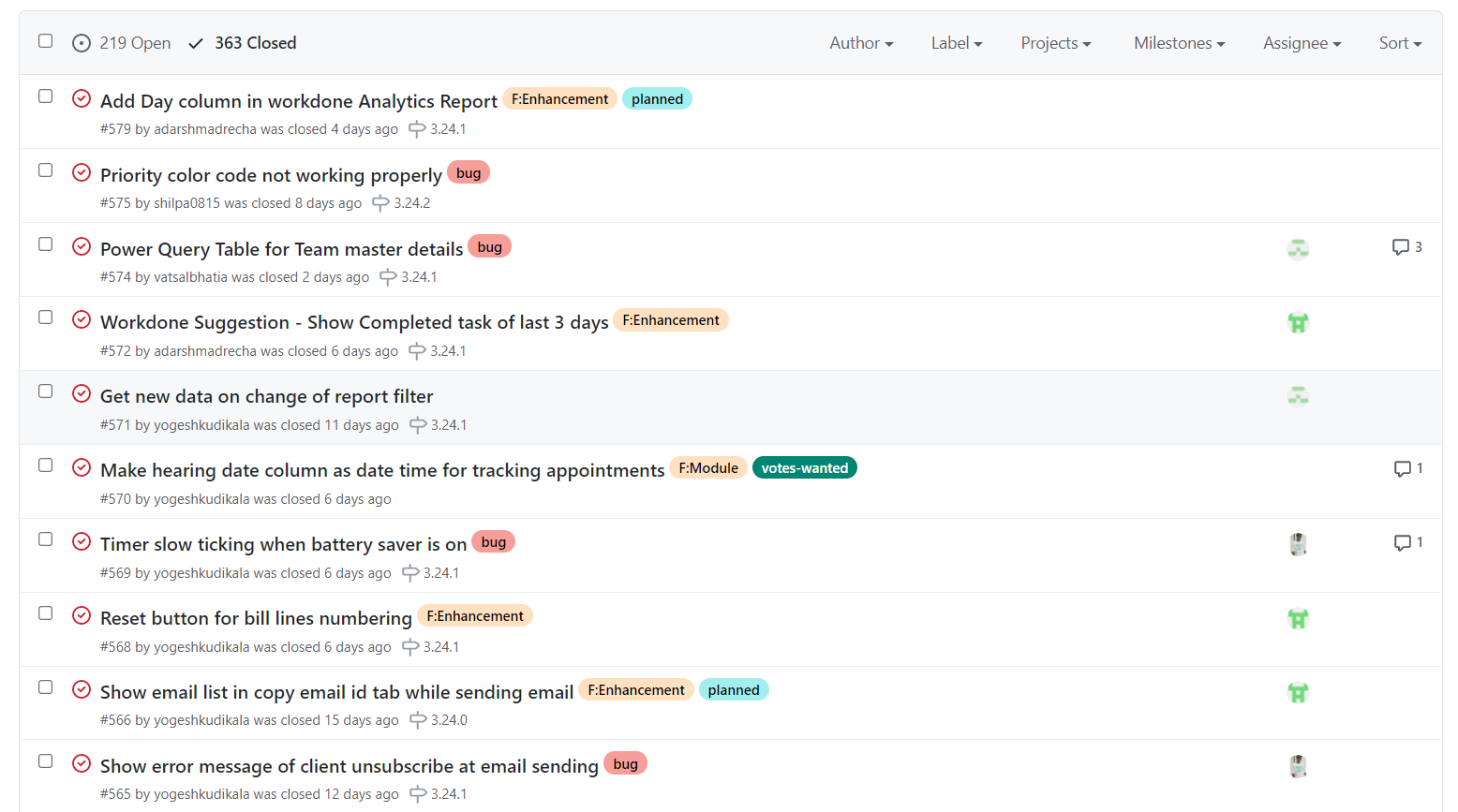 WhatsApp Group
We have a WhatsApp group named Jamku 3.
This is an open group, all members can post and discuss suggestions for improving Jamku.
If wish to Join, ask support team to add you in this group.